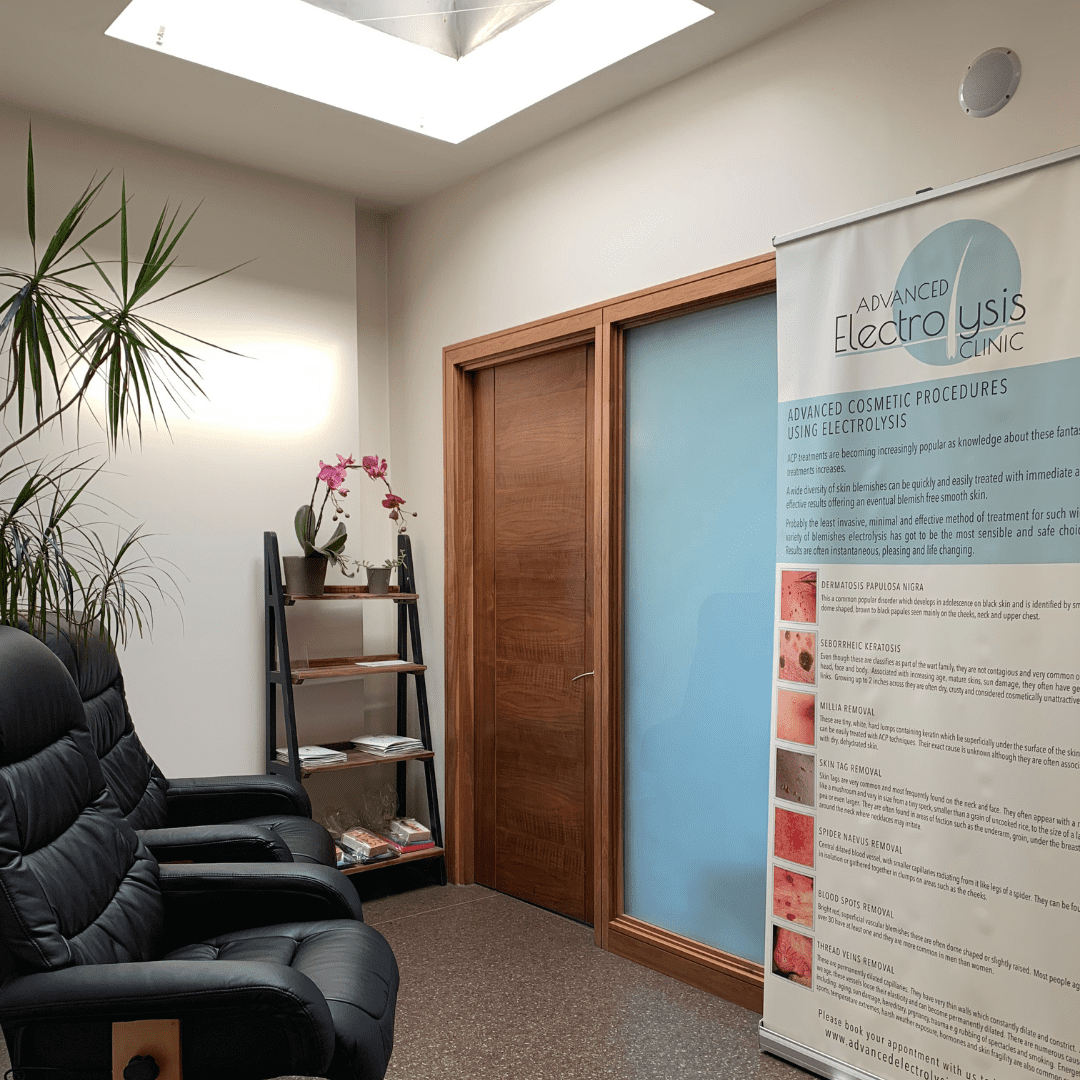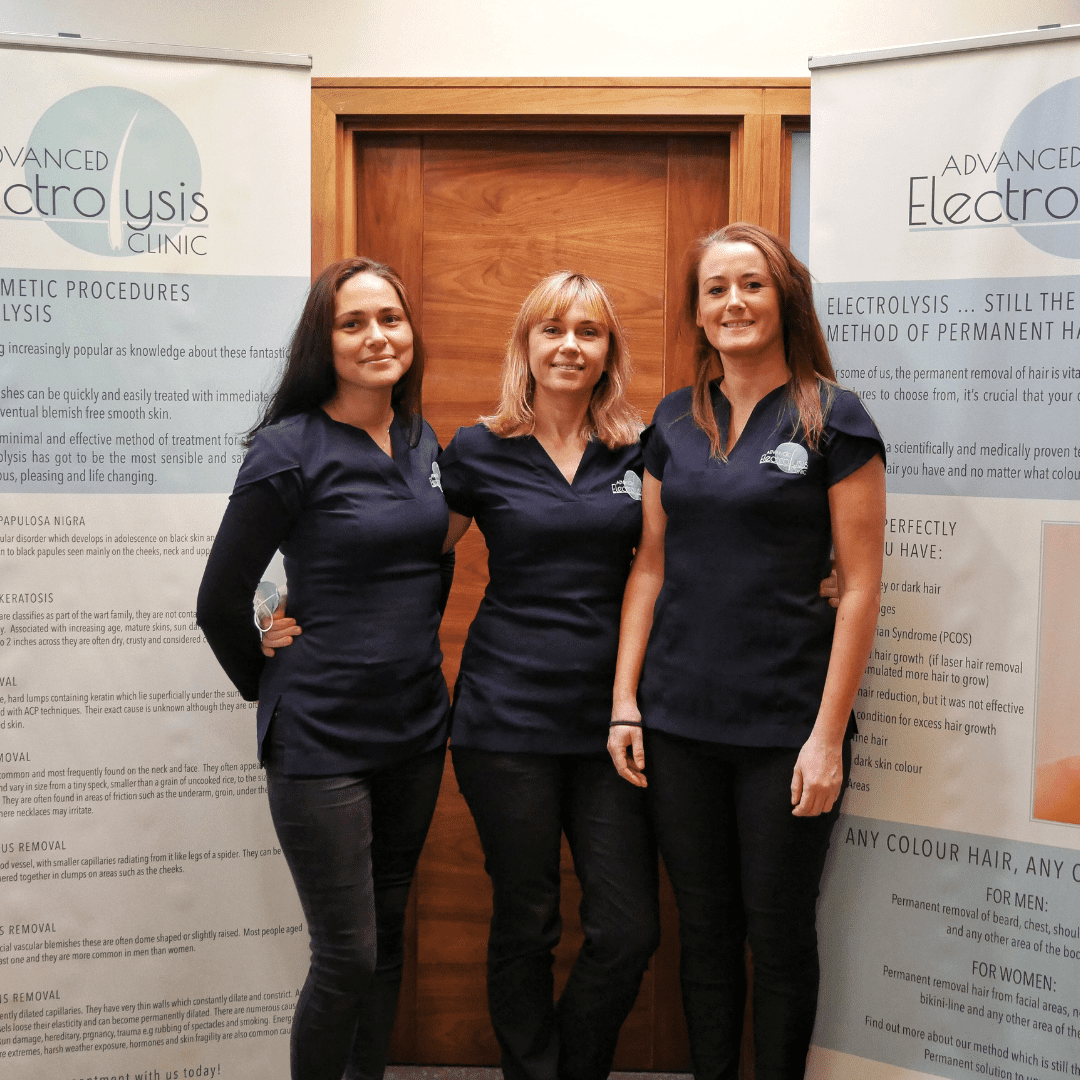 OUR STORY
Here at The Advanced Electrolysis Clinic we are proud to be the leading Electrolysis Hair Removal Clinic in Ireland. We are based in Dublin city, in the heart of Ranelagh village, right after the triangle.
We specialise in Electrolysis permanent hair removal and have gained an excellent reputation, over the years, for obtaining the best possible hair removal results, for our clients.
We pride ourself with our truly personal and discrete service that helps our clients to gain back their confidence knowing their hair removal treatment is 100% permanent.
With clients coming to our clinic from all sides of Ireland we ensure each and every staff member is internally and meticulously trained so we can guarantee each and every client walks away happy.

Electrolysis
Hair

Removal
Electrolysis hair removal is the only FDA approved as permanent hair removal treatment. Unlike other hair removal methods Electrolysis works on any hair & skin type/colour.

Advanced


Skin

Treatments
Skin care treatments ranging from pampering facials, relaxing massage to customised chemical peels, anti-aging facials & Botox.

Advanced
Cosmetic

Treatments
Electrolysis skin treatments for the effective & instant removal of skin tags, thread veins, milia & more skin imperfections.

Electrolysis
Training

School
Excelerate your beauty career with specialist Electrolysis hair removal training, Upskill or refresh your knowledge with our latest courses!
OUR ELECTROLYSIS REMOVAL MACHINES
Apilus

Platinum &

Apilus

xCell
Thanks to modern technology and the leading technology Apilus electrolysis removal machines have revolutionized permanent hair removal treatments.

Here at the Advanced Electrolysis Clinic we use the Apilus Platinum and Apilus xCell, which are state-of-the-art computerized electrolysis machine that enables us to input the exact individual requirements of treated area, such as the thickness of the hair on each client.

This ability to customise each treatments enables us to give a much more effective treatment and obtain much faster results with drastically reduced treatment times for our clients!
Apilus

Platinum &

Apilus

xCell
The Apilus electrolysis machine also enables us to limit and measure the level of destruction within the hair follicle, targeting only germ cells.

This means it can protects the skin while preventing any new hair growth. It works twice as fast as any other older model epilator, so the cells responsible for hair growth are more quickly coagulated, resulting in ensure that your treatment is the safest, most comfortable and effective electrolysis treatments.

While the skill of the electrologist is the most important aspect in permanent hair removal, the technology used can make a significant difference in the quality of the treatment received.
Apilus

Platinum &

Apilus

xCell
To this day, Electrolysis remains the only 100% effective permanent hair removal method for all hair and skin types. Other hair removal methods currently available, such as laser, work from outside, on the hair pigment (melanin).

Electrolysis, on the other hand, attacks the hair follicle directly from the inside, leading to precise and direct destruction of the cells responsible for hair growth, while protecting the skin's surface.

So, whether your hair is blond, black, white or red, and your skin black, pale or olive, the Apilus Platinum and Apilus Xcell will always help us deliver 100% effective results for you.
Book a FREE CONSULTATION and a

SAMPLE TREATMENT

to learn more about our
permanent hair removal treatments
here in Dublin.